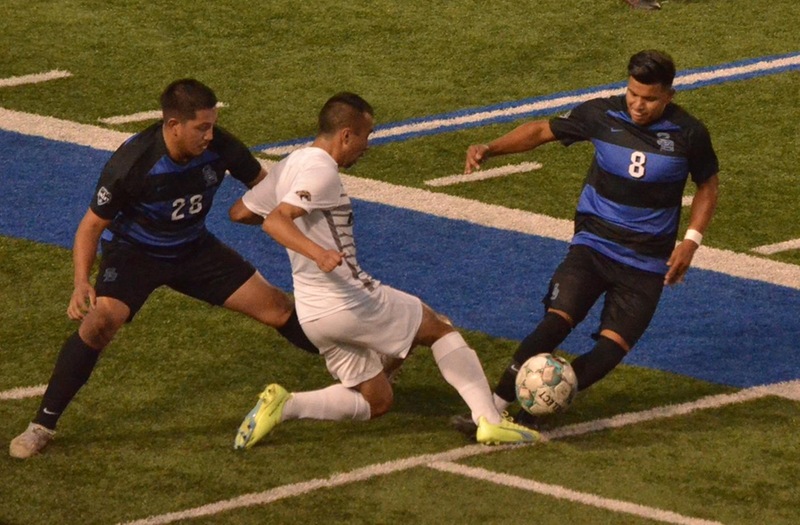 Entering the week on a five-game winless streak, the San Bernardino Valley College men's soccer team knew it needed a change to turn its fortunes around before Inland Empire Athletic Conference play opens next week.
So the coaching staff introduced a new formation this past Monday. The results so far are positive.
SBVC scored in the final two minutes of each half Friday evening, as it beat visiting Cypress College 3-1 inside SBVC Stadium. The win comes on the heels of a 5-0 victory over Pasadena City College, which was ranked 12th in the state in a poll of California sports information professionals.
Friday night, the Wolverines pressed the attack from the start, firing eight of the first nine shots in the game. And on the eighth, they found the back of the net.
A ball was lofted into the box toward Ebrima Njie, who was able to flick the ball back toward Brian Chavez, who fired the ball into the net from about 22 yards out, giving the Wolverines a 1-0 lead.
But a defensive lapse allowed Cypress to draw even six minutes later. Fabrizio Arana was able to pressure the SBVC defense into a turnover inside its own box, and he took the ball and fired it past goalkeeper Antonio Bataz to make it 1-1.
SBVC took the lead back in the 44th minute. Quinten Ponsford received the ball in the box, and he made a quick pass to Reymundo Domingo near the top of the box. He fired a shot into the net giving SBVC a 2-1 lead going into the half.
The Wolverines weathered the Cypress attack in the second half, including three consecutive corner kick opportunities in the 71st minute.
SBVC tacked on a final goal thanks to a quick counter attack in the 89th minute. The ball came up the left wing to Ernest Lomeli, who chipped a pass over the Cypress defense to Rolando Lombera to run onto. Lombera then chipped the ball into the far post to close the scoring.
Bataz ended the game with three saves for SBVC, while Cypress goalkeeper Caden Nelson had four for the Chargers.