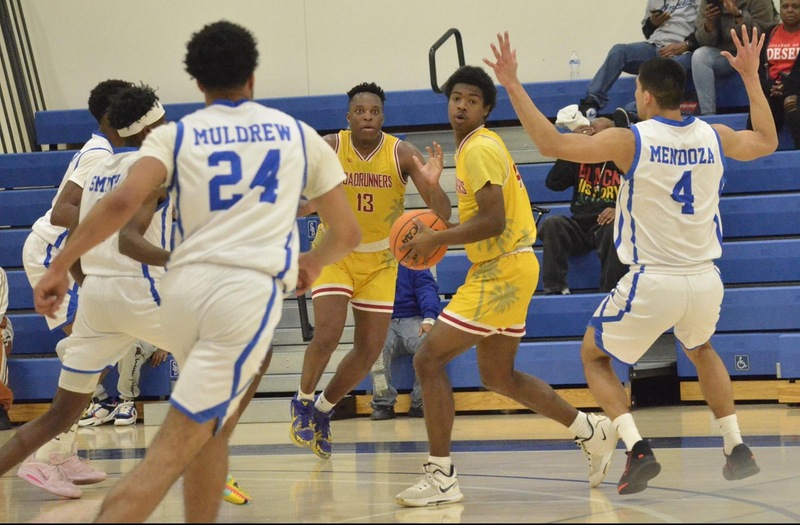 Dominique Daniels had 47 points and the San Bernardino Valley College men's basketball team used a smothering defense to force 38 turnovers by College of the Desert en route to a 117-57 win Wednesday night inside the SBVC Athletics Complex.
Daniels went into the break with 26 points on 10-of-11 shooting from the field, as the Wolverines led by 35 after 20 minutes. In the second half, he continued pouring the ball into the basket, going 7-for-12 - including 4-for-6 from beyond the arc - to finish the game with the 47 points in just 31 minutes of action. He finished the game 9-for-12 from three-point range and added six steals and five assists.
After falling behind from the start, the SBVC defense picked up its defensive pressure five minutes in to the game. The Wolverines went on a 13-0 run after falling behind 9-4 early, then another 10-0 run over 1 minute, 39 seconds to pull further away in the first half. The defensive pressure paid off, as SBVC was credited with 26 steals in the game.
Five other Wolverines ended the game in double figures, as Chine Nwanevu ended with a double-double of 10 points and 13 rebounds. Aamari Smith and Sylis Gray each had 13 points, while Chester Makoi and Sebastian Mendoza added 12 each before fouling out.
Mitchell Hendrickson and Rickey Adam Bell led Desert with 12 points apiece.