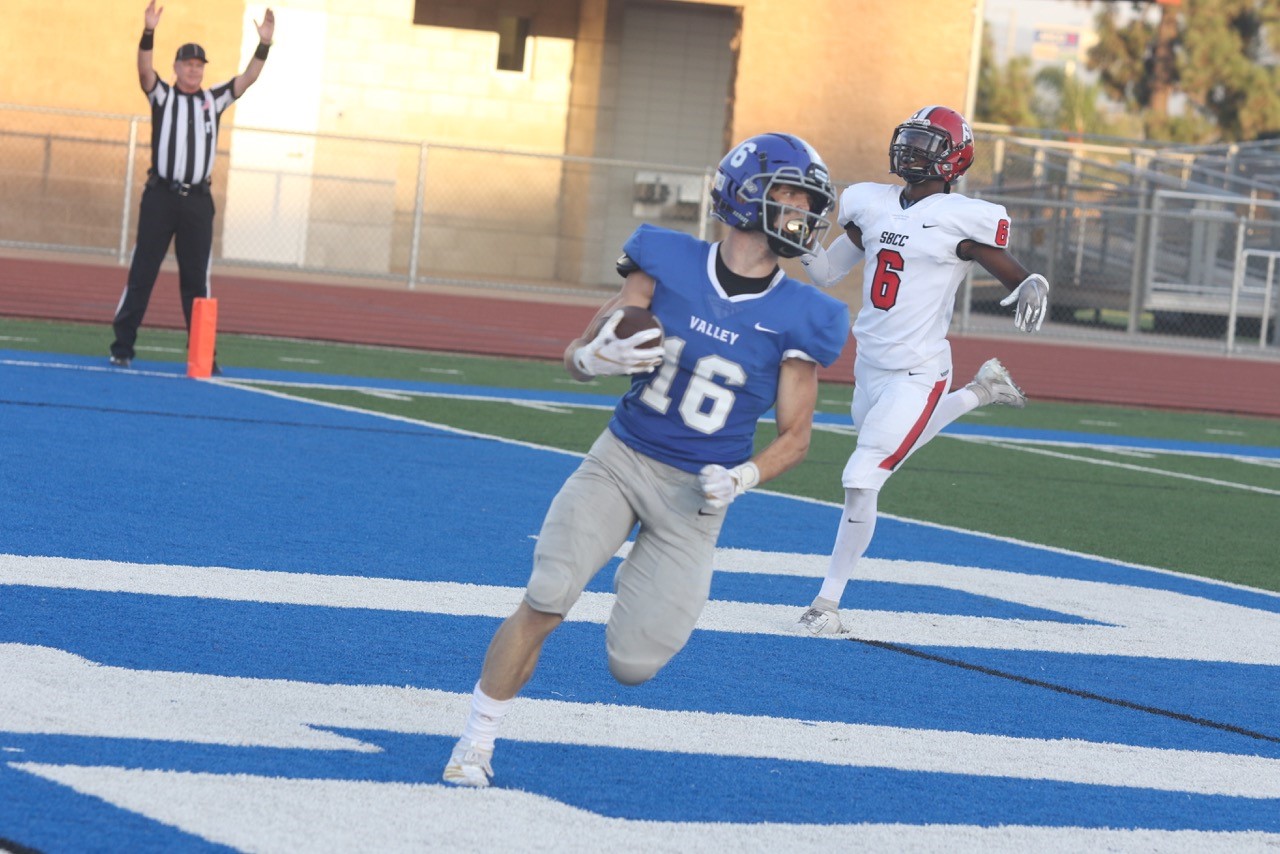 The San Bernardino Valley College offense picked up where it left off after week one, and the defense joined in with a strong performance of its own as the Wolverines beat Santa Barbara City College on Saturday night at SBVC Stadium.
It took the Wolverines until its second drive Saturday night to open the scoring, as Jhaylen Haynes set up the Wolverines on their own 12 after picking off Santa Barbara's Scotty Forbes. SBVC marched down the field quickly, thanks to a 64-yard pass play from Jeremy Moussa to Dionzae Nolan II, putting the Wolverines on the Santa Barbara 20. Four plays later, on a third and goal at the Vaqueros' 8, Moussa pulled the ball down and fought his way into the end zone for the opening score.
The defense came up big again on the next Santa Barbara drive, as a muffed kickoff return went out of bounds at the Santa Barbara 1-yard line. On the first play, Mike Estivene tackled running back Will Bayonne in the end zone for the safety, and a 9-0 SBVC lead.
SBVC's ensuing drive didn't last long, as Moussa went to the air, hitting Koale Schroeder on the run down the right sideline for a 49-yard score, and a 16-0 lead.
Moussa again put up big numbers for the Wolverines, completing 27-of-48 passes - hitting 12 different receivers - for 457 yards and four scores. Nolan was the beneficary of two of those touchdown passes, as he caught seven passes for 167 yards on the night. Meanwhile, Darrell Turner Jr. carried the heavy load on the ground, carrying the ball 20 times for 167 yards and one touchdown.
The SBVC defense bounced back from last week's wild game with a solid peformance, holding Santa Barbara to 389 yards of total offense, holding them to 22 percent third-down efficiency, forcing eight punts. Haynes had two interceptions, including a pick six in the fourth quarter to complete the scoring, while Devon Blakely also picked up an interception in the game. The Wolverines also blocked a field goal attempt at the end of the first half, to preserve a 30-point halftime lead.
SBVC will gear up for a big challenge next week, as they head down the 215 Freeway to take on the state's No. 2-ranked team, Riverside City College. Kickoff is 6 p.m.