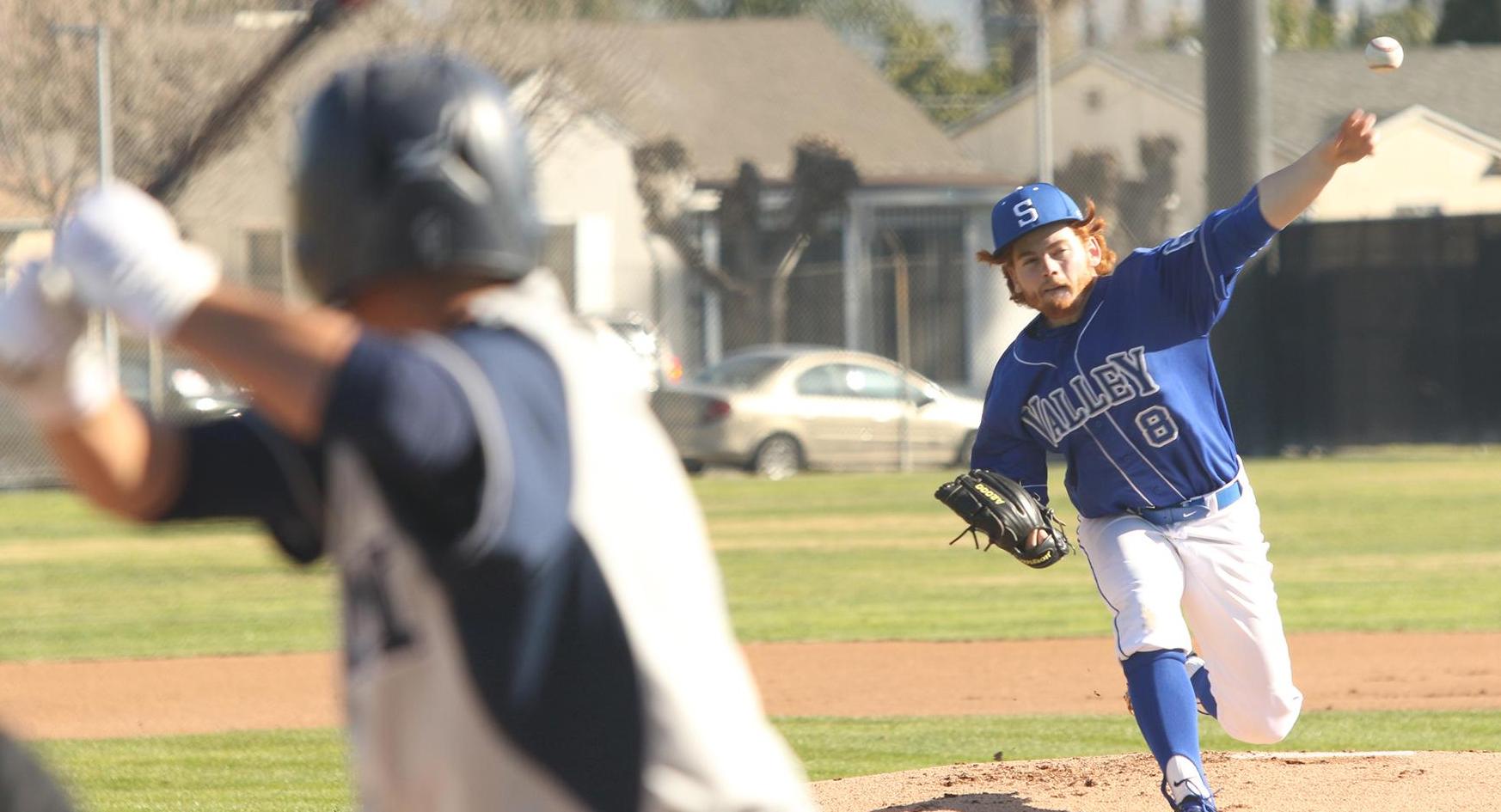 SBVC (4-0-1) grabbed their first tie since 2012 as they tied the game in the bottom of the ninth and then as the teams went into extra innings the game was called due to darkness and the game concluded in a tie with the Glendora Citrus Owls (3-1-1), 5-5.

Five different SBVC pitchers combined to complete the nine inning marathon game that lasted over three and a half hours. Sophomore right handed starting pitcher Mason Jandro (Corona Centennial) tossed four innings giving up three runs, all earned, on six hits, striking out three in his second start of the season.

Freshman right handed relief pitcher Jessy Fuerte (Bloomington H.S.), sophomore right handed relief pitcher Grant Gooselaw (Lake Elsinore Temescal Canyon) and freshman left handed relief pitcher Tyler Penix (Highland Citrus Valley) all combined to shut down the Owls over the next four innings.

Sophomore right handed relief pitcher Brett Prater (Riverside Woodcrest Christian) started the game at first base, wrapping up his day on the mound with an inning of work, surrendering two runs, none earned, on one hit, walking three and striking out one.

Citrus opened up the scoring in the top of the first with a couple of runs and SBVC responded with a run of their own in the bottom half of the frame. Freshman left fielder and leadoff hitter Aaron Gamez (Riverside La Sierra) led off the inning with a triple and was brought home by a single to left from freshman center fielder Billy Reyes (Yucaipa H.S.), making the score 2-1.

SBVC would take the lead in the bottom of the third when Reyes grabbed a leadoff walk, then made it to second on a passed ball, eventually scoring on a triple by sophomore short stop Gerardo Torreblanca (Fontana H.S.), tying the game at 2-2. Torreblanca would come around to score on the next at bat, as Prater clobbered a single, scoring Torreblanca and giving SBVC a 3-2 lead.

SBVC would cushion their lead with another run in the bottom of the fourth with a two out single by Gamez, who stole second, then came home on a single by Reyes to give SBVC a 4-2 lead.

The Owls would respond in the top of the fifth with a run and then take a 5-4 lead in to half of the ninth.

SBVC opened up with ninth with a strike out and ground out, leaving the home side down to their final out. Torreblanca would single and freshman pinch hitter Jesse Woods (Riverside John W. North) would grab a walk. Sophomore pinch hitter Breion Barron (Hemet Tahquitz) would tie the game as he clobbered a shot past a diving Owls short stop to score Torreblanca from second. Unfortunately, that's how the game would end.

Photo by Wade Byars.
Information, Photos & Story provided by SBVC Sports Information.